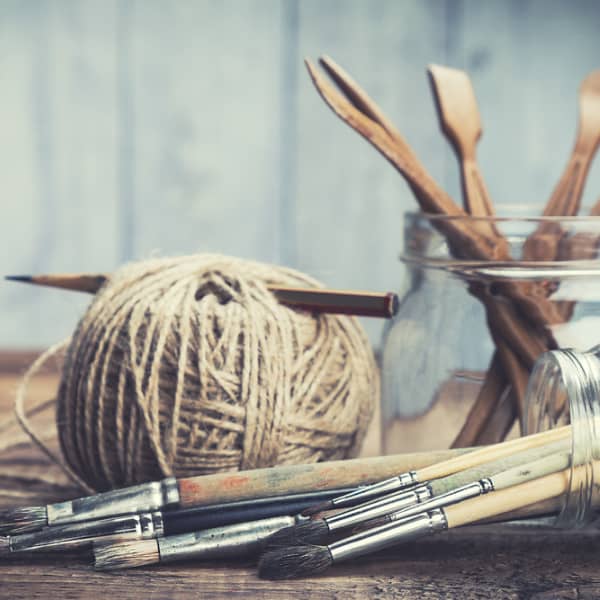 A craft or trade is traditionally a hobby or an occupation that requires skilled workers to produce an item.
Crafts can include weaving, carving,
pottery, embroidery, macrame, beading, sewing, quilting, and many other forms.
Historically crafts were made by a craftsperson;
a title applied to people
who were occupied in the small-scale production or maintenance of goods.
Craft may also be referred to as "handicraft," with their hand-made
nature distinguishing them from other mass-made,
readily available products.
Types of Craft
There are hundreds if not thousands of different varieties of handicrafts.
The following list of crafts is included merely for illustrative purposes.
Textiles
Appliqué, Crocheting, Embroidery, Felt-making, Knitting, Lace-making, Macramé, Quilting, Tapestry art, Weaving.
Woodcraft
Wood-carving, Wood-turning, Cabinet making, Furniture making, lacquerware.
Papercraft
Paper Modelling, Collage, Decoupage, Origami paper folding, Papier-mâché.
Pottery and Glass Crafts(see also Ancient Pottery)

Ceramics (earthenware, stoneware, porcelain), Mosaic Art, Glass Beadmaking, Glass Blowing, Glass Etching, 
Jewelry
Includes metalwork involving processes like embossing,
repoussé work, engraving,
enameling (types include champlevé, base tailed, ),
granulation and filigree decoration.
For more, see: Jewelry : History, Techniques.
Other Examples of Craftwork
Basket weaving, Beer-making, Book-binding,
Doll-making, Enameling, Floral Design, Ikebana, Jewelry-making,
Knife-making (cutler), Leatherwork, Metalwork, Model-making, Tattoo Designing, Toy-making
Product Size
1

1

2

10

1

10 cm

1

10*10

1

10*15

1

10*20

0

100

2

11

0

110

1

12

0

120

2

15

1

15*15

1

15*20

0

150 and more

1

180

1

2

1

2.5

2

20

1

20*20

1

20*25

1

24

0

25*15

1

25*25

1

3

1

30

1

30*30

1

30*40

1

300

0

34

1

34*27

0

35

4

36

1

37*29

0

37*32

4

39

0

39*17

1

39*33

1

4

3

40

1

40*60

1

42*41

0

45

0

46

0

47

1

49

1

5

1

50

1

50*60

0

51-99 cm

1

58*28

1

6

0

60

1

7

0

70

2

8

0

80

1

9

0

90

0

Big

0

L

0

less than 50 cm

0

M

0

medium

0

more than 100 cm

0

S

0

XXL

2

1.5 Cm

1

10 ml

1

12 ml

1

14 m

2

2 Cm

2

2.5 Cm

1

20*30

1

25

2

3 Cm

2

3.5 Cm

3

37

3

38

2

4 Cm

1

4 ml

1

40*40

1

40*50

3

41

1

50*70

1

6 ml

1

8 ml

2

A3

2

A4