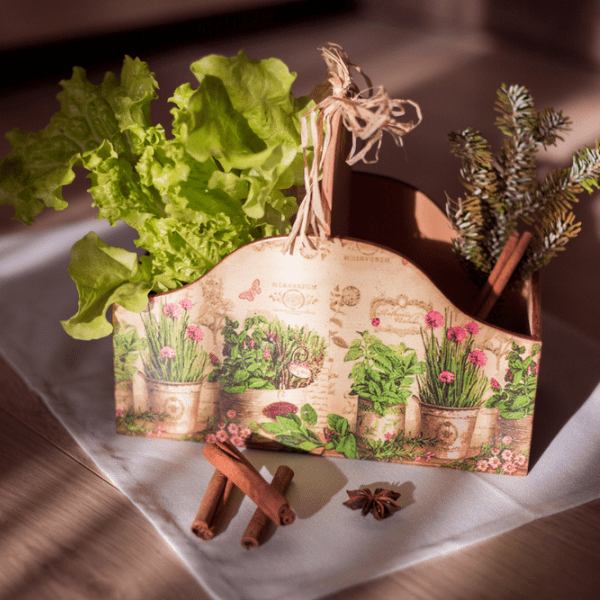 Decoupage involves cutting out pictures,
gluing them to an object and then coating the pictures and the object with layers of varnish.
The finished item can look so beautiful that it appears to be professionally painted.
You can decoupage pretty much anything
around the house – and it's a great way to update or
spruce up household furniture that's looking a bit tired and worn.
It can also be used create decorations for special occasions
such as Easter – by creating designs and patterns on eggs,
or Christmas, by making your own decorations for the tree.
Decoupage is a fun, calming and soothing craft that anyone of any age and ability can enjoy.
You can buy a large selection of supplies specifically for Decoupage,
but the nice thing about this craft is that you probably
have many of the supplies lying around at home
to be able to start simple projects right now!
The basic tools and materials you'll need are scissors,
a crafting knife, wrapping paper, magazines or paper napkins.
Wrapping paper – ideal thickness and widely used as it is available in a multitude of both traditional and up-to-date designs.
Wallpaper
Magazines/catalogues
Découpage papers – these are pictures selected specifically for this craft and are widely available in many designs
Greetings cards
Fabric
Paper napkins
Origami papers – these are small square sheets of paper with mini designs and patterns on.
Product Size
1

1

2

10

1

10 cm

1

10*10

1

10*15

1

10*20

0

100

2

11

0

110

1

12

0

120

2

15

1

15*15

1

15*20

0

150 and more

1

180

1

2

1

2.5

2

20

1

20*20

1

20*25

1

24

0

25*15

1

25*25

1

3

1

30

1

30*30

1

30*40

1

300

0

34

1

34*27

0

35

4

36

1

37*29

0

37*32

4

39

0

39*17

1

39*33

1

4

3

40

1

40*60

1

42*41

0

45

0

46

0

47

1

49

1

5

1

50

1

50*60

0

51-99 cm

1

58*28

1

6

0

60

1

7

0

70

2

8

0

80

1

9

0

90

0

Big

0

L

0

less than 50 cm

0

M

0

medium

0

more than 100 cm

0

S

0

XXL

2

1.5 Cm

1

10 ml

1

12 ml

1

14 m

2

2 Cm

2

2.5 Cm

1

20*30

1

25

2

3 Cm

2

3.5 Cm

3

37

3

38

2

4 Cm

1

4 ml

1

40*40

1

40*50

3

41

1

50*70

1

6 ml

1

8 ml

2

A3

2

A4