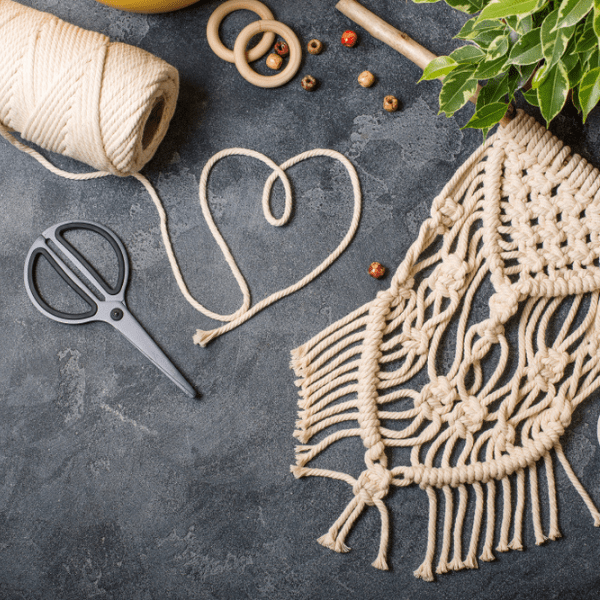 Macrame is a French word that means knot; it is one of the oldest forms of art.
The ancient Persians and Assyrians (2300 B.C.) finessed this art with great skill.
Later, Arabs brought the art form to Europe, and the Europeans to the Americas,
where Caribbean people used it to make their typical knotted hammocks.
Basic Macrame has a number of different knots,
with the most well known being the square knot and the half knot,
that when combined, create borders (overlaid or woven) or braids to decorate bags or fabrics, flower pots, lamps,
wall hangings and curtains.
Macrame has become very popular again in the last few years,
and there are more than 50 types of different knots.
The only materials necessary to make a macramé project are pima cotton, the wooden joints,
and a surface to fasten your project to (usually a stick or wooden ring).
Some examples of macramé "knots" include:
The chevron, Indian braid, diagonal, zigzag, stopper knot,
overhand knot, double braid, single braid, square knot, infinity knot, half knot, etc.
With so many knots and so many names it can be hard to decide where to start, so we recommend beginning with something simple,
that happens to also be all the rage in decoration: macramé plant hangers.
We've put together 5 kits that you can combine to create a modern atmosphere. The kits contain everything you'll need:
Pima Cotton, Wooden Beads and Wooden Rings.
Product Size
1

1

2

10

1

10 cm

1

10*10

1

10*15

1

10*20

0

100

2

11

0

110

1

12

0

120

2

15

1

15*15

1

15*20

0

150 and more

1

180

1

2

1

2.5

2

20

1

20*20

1

20*25

1

24

0

25*15

1

25*25

1

3

1

30

1

30*30

1

30*40

1

300

0

34

1

34*27

0

35

4

36

1

37*29

0

37*32

4

39

0

39*17

1

39*33

1

4

3

40

1

40*60

1

42*41

0

45

0

46

0

47

1

49

1

5

1

50

1

50*60

0

51-99 cm

1

58*28

1

6

0

60

1

7

0

70

2

8

0

80

1

9

0

90

0

Big

0

L

0

less than 50 cm

0

M

0

medium

0

more than 100 cm

0

S

0

XXL

2

1.5 Cm

1

10 ml

1

12 ml

1

14 m

2

2 Cm

2

2.5 Cm

1

20*30

1

25

2

3 Cm

2

3.5 Cm

3

37

3

38

2

4 Cm

1

4 ml

1

40*40

1

40*50

3

41

1

50*70

1

6 ml

1

8 ml

2

A3

2

A4