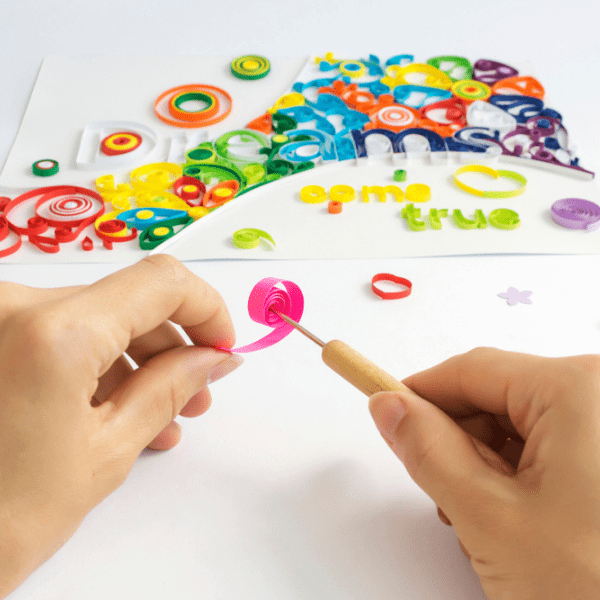 if you've never tried your hand at quilling before,
you may feel slightly intimidated about diving into a whole new craft that seemingly requires oodles of supplies!
But fear not – whilst there are plenty of amazing quilling tools and accessories on the market, the truth is,
you can get started with a simple quilling tool, some paper strips
and a dab of glue!
Check out our low-down on quilling supplies below, and if you're looking for the perfect place to start,
we've a magical step-by-step project you'll love!
Quilling (or paper filigree) is an art form which has been around for centuries.
In its early days, people would use quills to coil the strips of paper before molding them into elaborate designs.
It is widely believed that this early technique is the reason we know it as 'quilling' today.
The origin of paper filigree , however, is contested across the world.
Some sources suggest that tweaking was first seen in Ancient Egypt,
where certain forms of filigree art inspired more modern forms of paper filigree years later.
Other sources suggest that its origin is in the Renaissance period,
when monks and nuns used the strips of paper trimmed from the gilded edges of books to decorate religious objects –
this was a cheaper alternative to using gold filigree and the results were just as beautiful.
Product Size
1

1

2

10

1

10 cm

1

10*10

1

10*15

1

10*20

0

100

2

11

0

110

1

12

0

120

2

15

1

15*15

1

15*20

0

150 and more

1

180

1

2

1

2.5

2

20

1

20*20

1

20*25

1

24

0

25*15

1

25*25

1

3

1

30

1

30*30

1

30*40

1

300

0

34

1

34*27

0

35

4

36

1

37*29

0

37*32

4

39

0

39*17

1

39*33

1

4

3

40

1

40*60

1

42*41

0

45

0

46

0

47

1

49

1

5

1

50

1

50*60

0

51-99 cm

1

58*28

1

6

0

60

1

7

0

70

2

8

0

80

1

9

0

90

0

Big

0

L

0

less than 50 cm

0

M

0

medium

0

more than 100 cm

0

S

0

XXL

2

1.5 Cm

1

10 ml

1

12 ml

1

14 m

2

2 Cm

2

2.5 Cm

1

20*30

1

25

2

3 Cm

2

3.5 Cm

3

37

3

38

2

4 Cm

1

4 ml

1

40*40

1

40*50

3

41

1

50*70

1

6 ml

1

8 ml

2

A3

2

A4