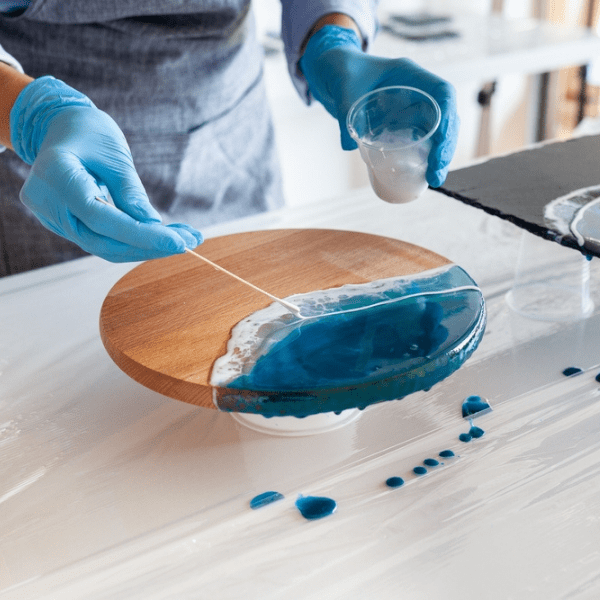 Start with a good quality resin.
It might be a little pricier, but the cheap resin is not crystal clear.
Moreover, using cheaper resin can cause the painting to lose its color brilliance.
To create a masterpiece, you have to spend some bucks.
Each canvas will have different ratios of canvas to harder, carefully follow the instructions stated on the bottle.
If you are working with wood,
spray paint will help minimize the texture and give you more vibrant color.
This works especially well for bowls or boards.
Plastic disposables are used for mixing the canvas and containing the canvas during the painting process.
If you do not wish to use plastic cups, you can go for any other palate used during usual painting.
We highly recommend and love using reusable silicone cups
Product Size
3

1

4

10

1

10 cm

1

10*10

1

10*15

1

10*20

0

100

4

11

0

110

4

12

0

120

0

15

1

15*15

1

15*20

1

150 and more

1

180

3

2

1

2.5

2

20

1

20*20

1

20*25

1

24

0

25*15

1

25*25

3

3

1

30

1

30*30

1

30*40

1

300

0

34

1

34*27

0

35

1

36

1

37*29

0

37*32

1

39

0

39*17

1

39*33

4

4

0

40

1

40*60

1

42*41

0

45

0

46

0

47

1

49

3

5

2

50

1

50*60

1

51-99 cm

1

58*28

4

6

0

60

3

7

0

70

5

8

0

80

3

9

0

90

0

Big

0

L

1

less than 50 cm

0

M

0

medium

1

more than 100 cm

0

S

0

XXL

1

10 ml

1

12 ml

1

4 ml

1

6 ml

1

8 ml